Motorcycle Accidents
Motorcycle Accident Lawyer in Charlotte, NC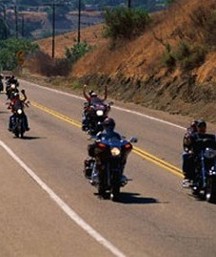 There are a number of different threats bikers face on the road. From negligent drivers to unsafe roadways and defective motorcycles, there is too little protection from injury for bikers when something goes wrong. Our experienced motorcycle accident lawyer can make sure that you receive all the damages you deserve when an accident occurs due to someone else's negligence or carelessness. Let our motorcycle accident attorney investigate your situation and handle any and all negotiations for you or an injured loved one.
Our motorcycle accident attorney aims to help you get your life back on track. However, if you have suffered such injuries as broken bones, brain damage, or even been paralyzed, rely on our expert lawyer to fight for the compensation you are due. We understand the legal processes that are involved in applying for legal recourse related to motorcycle accidents.
Our expertise includes thorough knowledge of the legal system, as well as how to deal with insurance providers. Our lawyer will apply all his legal know how on your behalf, to make sure you are properly compensated for property damage, medical expenses, lost wages, pain, suffering, and any long-term health care you require.
Causes of Accidents make drivers liable 
Motorcycles need to be extra careful when navigating roadways, although other drivers need to be equally mindful. Motorcyclists can fall victim to drivers simply not paying enough to the road. It may take only a split-second error to cause an accident, but that could be serious, or even fatal, for motorcyclists. We can find the reason that led to your motorcycle accident and prove it so that you will be adequately compensated. Some of those reasons are as follows:
Tailgating a motorcycle or following too closely
Failure to check mirrors when changing lanes
Failure to yield to traffic
Leave too little room for motorcycles to pass
Splitting lanes with a motorcycle
Making turns in front of bikes without signaling
An attorney at the Law Offices of William H. Harding will see to it that you are properly represented. We have detailed background knowledge when it comes to motorcycle accident lawsuits. We understand the specifics in this type of case, which is different from a typical auto accident or truck accident. Driver negligence should not go without repercussions and we know precisely how to maneuver through your claim. That involves speaking with insurance representatives, collective evidence and closing out the negotiation process.
When you are involved in a motorcycle accident, an insurance company will represent the driver who caused the crash. Their objective is to disprove your claim and pay out as little compensation as possible. There are many tactics used to accomplish this and that is why an attorney can step in and thwart those tactics. The Law Offices of William H. Harding will work to protect your rights and not let an insurance company take advantage of your situation.
Need Help?
Fill out the form below...

Practice Areas
Motorcycle Accident Compensation 
When a bike operator is injured, there is going to be a battle to get the compensation that is rightfully owed to them. Unfortunately, actually getting that compensation remains a complex process. One of the most integral factors in getting that compensation is hiring a credible attorney. The Law Offices of William H. Harding features attorneys who have accumulate years of experience with all types of motorcycle accident lawsuits. That begins with a thorough investigation of your claim and piecing together a solid foundation for your case. An attorney will be right there with you through every phase of this process. The main goal is to get you the highest amount of compensation possible and in that process, we account for the following:
Medical expenses
Future cost of care
Pain and suffering
Decrease in future earning potential
Mental anguish
Lost wages
These are all very important criteria that your attorney will consider. There are other areas that are factored in and we make sure to pinpoint every single expense possible. This will never replace the trauma of experiencing a motorcycle accident, although it can help your daily life return to a better quality. Receiving compensation is part of a civil case, which does not enter into a criminal court. However, criminal charges could be filed against a driver who caused a motorcycle accident. Whether or not those charges are filed has a lot to do with the specifics of the case.
Serious Vehicle Injuries
Motorcycle operators are at a tremendous disadvantage when involved in an accident. Other cars and trucks are bigger and have more power, which is a combination that does not bode well for motorcyclists. Accidents are dangerous because there is little protection for operators who could wind up with serious injuries, which could even result in death. Here is a look at some of the more serious motorcycle injuries that can be sustained:
Traumatic brain injury
Spinal cord injury
Amputation
Broken bones
Disfigurement
Wrongful death
Paralysis
In situations like these, there are long-term costs to consider. Victims may never be able to work again and some could require care 24 hours a day. Those costs are factored into a motorcycle accident lawsuit and it is important to account for all of them because settlements are final. There is no revisiting a motorcycle accident lawsuit in an effort to seek out more compensation. Settlements and court rulings bring those cases to a conclusion, which is why it is so important to get everything right.
The Law Offices of William H. Harding will provide a personal injury attorney that is sympathetic and understanding to these types of serious injuries. We will fight for you to make sure you have the right amount of compensation to proceed with your life. And in accidents that result in death, we will be sure to hold the responsible parties accountable so that grieving families are compensated accordingly.
Building your case
The process of building your case is very involved. The Law Offices of William H. Harding takes care of all those details, which includes filing paperwork and investing all the details within the case. An attorney will analyze police reports, interview witnesses, take a look at driving records, recreate the accident scene and consult with medical experts. While we do all of that, you can sit back and attend to your recovery. One of the best parts about hiring an attorney is that it eases the stress level and anxiety of victims. Building a case also involves accounting for the physical, financial and mental setbacks caused by the accident.
Motorcycle accident victims may not always know exactly what they are entitled to receive. An attorney can inform you of all your legal entitlements. The primary factor in these lawsuits is eligibility to receive financial compensation. However, if you are found to be at fault, then the compensation does not apply. There is a need to prove that any injuries incurred were caused by the negligence of the other driver. That leads to eligibility to receive recoverable damages. We will provide a motorcycle accident attorney who will go through the process in the
Why Harding Law is the motorcycle accident lawyer for you
There are a lot of personal injury lawyers to choose from, although the Law Offices of William H. Harding stands out from the competition. This is accomplished by utilizing an extremely close attention to detail. We also provide personal injury lawyers who conduct themselves in the following ways:
Through analysis of police reports
Professional advice and insight
Drawing from extensive experience
Strong communication skills
Expert knowledge of local laws
Experience in Charlotte legal system
Having walked into numerous Charlotte courtrooms on so many occasions, our attorneys know what to expect and that helps with handling personal injury cases. We have also made many settlements without even having to set foot into a courtroom. No two motorcycle claims are identical, although we have worked enough cases in the Charlotte area to know how to proceed. That familiarity is a huge advantage and could help you really up the level of compensation you could receive for your motorcycle accident injuries.
Experience is also a great teacher and we have learned a lot for all our combined years of practice at the Law Offices of William H. Harding. Our attorneys have seen it all and that type of experience cannot be underestimated. We are ready to put all that experience to work for you. We are proud to have served so many members of the community and continue to work tirelessly for every client.
Things to do after a vehicle crash
After a motorcycle accident, a boost of adrenaline can make it difficult to get everything in order right away. However, there are do's and don'ts after being involved in a motorcycle accident. The first thing to do is to make sure you are safely out of harm's way. That means getting out of the roadway so that you are not in danger of incurring any further damage. Next, it is important to look for any sign of injuries and get medical care if it is needed. Injuries do not have to be major for you to seek immediate assistance. Documenting injuries right away is a big step in the fight for compensation.
Collect the information of the other party and also call the police following a motorcycle accident. Police reports can play a major role in proving negligence and getting your rightful compensation. If possible, take some notes of the surroundings and accompany those notes with pictures. Using your phone will suffice as it can be key to have actual images from the scene. When all that has been completed, contact a motorcycle accident attorney and be sure not to speak with the other driver's insurance company. An attorney will advise you on what to do next while other insurance companies will try to get out of paying anything at all. Be sure to call your insurance company as well and report the details of the accident.
Motorcycle Negligence
Motorcycle operators are often the victim of driver negligence, but there are also times when a motorcycle operator can be responsible for an accident. Rules of the road must be carefully followed and those who test those boundaries could be liable of negligence. If you have been injured in an accident caused by someone driving a motorcycle, then you could be entitled to compensation. When that occurs, contact the Law Offices of William H. Harding as we are ready to handle your motorcycle accident claim.
There are some situations that may seem to be unavoidable when building a motorcycle accident case. Dealing with inclement weather or high winds are two occurrences that play a part in motorcycle accidents. This may also be the cause of an accident where the operator of the motorcycle was liable.
Professional Lawyer Services
Our experienced motorcycle accident attorneys are here to assist you in attaining the compensation you deserve. If you or your loved ones have suffered in a motorcycle accident, call us today and let our top rated lawyers walk you through the process to get you on the road to economic recovery! We also offer the services of a Motorcycle Accident Attorney in Gastonia NC.
Contact Us Today To Let Our Charlotte North Carolina Accident Attorney Go To Work For You!