Car Accidents
Auto Accident Attorney in Charlotte, NC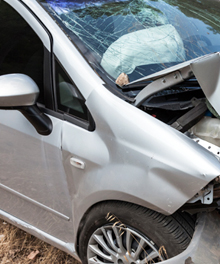 Even the most minor car accidents can cause lasting injury. From short-lived whiplash to incapacitating damage, there are a wide range of issues that can create long-lasting consequences. If you or a loved one is currently suffering from a car accident that was the fault of another driver, you should seek the guidance of an car accident attorney. In Charlotte, NC, the Law Offices of William H. Harding focuses on filing these particular personal injury suits.
File a Lawsuit with Professional Attorneys
Following a car accident, you may be facing medical expenses, lost wages, and repair bills. While car insurance is designed to help you cover these costs after a collision, many insurance companies simply want to settle claims as quickly and for as little money as possible.
This means that both your insurance and the insurance of the other driver will likely offer a settlement that simply won't meet your needs. Our car accident attorney fights to ensure you receive compensation that truly satisfies.
Focusing on a Wide Range of Injury Law Services
Financial stability is important. If you are concerned about the future of your family after suffering a serious, incapacitating accident, there is no one more qualified to help you than our team of lawyers. We have years of experience filing suits on behalf of individuals that are injured during a variety of different car accidents, including:
Car Accidents
Uninsured Motorist Accidents
Motorcycle Accidents
Truck Accidents
Attending to Injuries
It does not take a catastrophic car wreck to inflict significant injuries. Even minor fender benders can leave motorists with plenty of physical ailments. That is why it is important to seek medical attention after being involved in an automobile accident. The jolt of a car crash could leave motorists and passengers with whiplash, nerve damage and neck and back injuries that worsen over time. Even if you are a passenger in a minor car accident, it is a good idea to seek out medical attention. Strains and sprains can be just as troublesome as a broken bone, so it is important to seek out medical attention to protect yourself in the long term. Here is a look at just a handful of the common injuries sustained in an automobile accident:
Broken Bones
Head Trauma
Spinal Cord Injuries
Death
Paralysis
Back Injuries
Torn Ligaments
Nerve Damage
Need Help?
Fill out the form below...

Practice Areas
Compensation for Medical Bills and Injuries
The result of most car accidents ends in having to pay the cost of medical care. This could lead to large dollar amounts, especially when physical therapy and rehabilitation are involved. When an accident results in serious injury, there could be lifelong medical bills. Keep in mind that physical injuries can also lead to lost wages and the inability to perform prior job duties. Compensation is an important topic in any accident case and also applies to paying funeral costs in the event of a wrongful death. The Law Offices of William H. Harding will fight to get you the compensation you deserve.
The Process of Victim Compensation
When a person is injured in a car accident, the process of receiving compensation involves filing a personal injury claim. This could be filed against another driver, automobile manufacturers, road service companies and other entities. The party who was negligent can be held liable and be forced to pay out a personal injury claim. There must be negligence on their part, and a qualified attorney will be able to guide you through this process.
However, it is important to have an experienced attorney by your side to give you the most optimal chance at success. The Law Offices of William H. Harding can give even the playing field when you are pitted against insurance companies with teams of attorneys. Time is also a key factor as there are time limits on when you can file claim stemming from an auto accident that resulted in a personal injury.
Evidence in an Auto Accident Case
The evidence provided in an auto accident case could be the difference from a sizable payout and receiving nothing. Moreover, it is not completely up to the attorney to furnish that evidence. After an auto crash, you can do your part to start putting together a collection of evidence to build your case. This process is not too complicated or technical and can be done with some very basic tools. Here are some examples of the evidence that can be used to prove someone else's negligence in your car accident case:
Pictures from the scene of the accident
Police Reports
Eyewitness accounts
Medical records
Daily logs
Why you should hire an attorney to handle your accident
There is an immensity of benefits that come with hiring an attorney to handle your car crash claim. A qualified and experienced attorney will know the highest amount of compensation to seek out. Insurance companies are always looking to settle for less, but an experienced attorney at the Law Office of William H. Harding will not settle for anything less than what you rightfully deserve. This is accomplished by possessing a thorough understanding of the extent of your injuries and just how much compensation they can entail.
It should also be noted that you will only have one chance to show and prove the extent of your injuries. And a settlement is final as there is no going back and trying to rehash the situation. Accepting a settlement negates your right to file a second claim. This is where an attorney can step in and be sure everything is done correctly the first time around.
Filing a claim also comes with a significant amount of paperwork. That can be very overwhelming for someone not familiar with the specifics of personal injury law. And making a mistake when it comes to paperwork could doom your case altogether. Put your mind at ease by allowing an attorney at the Law Offices of William H. Harding to represent you.
The final advantage of having representation comes with not having to go back and forth with insurance companies or other attorneys. Your attorney will understand what needs to be done, what is most relevant and what kind of tactics are being used to try and downplay your lawsuit.
Car Accident Liability
What makes someone liable for inflicting personal injuries during a car accident? That is ultimately for a court to decide, although a variety of offenses typically lead to successful personal injury lawsuits and subsequent payouts. The whole process of showing what caused the accident is a primary function of your attorney. But not all cases are as clear. Some are more difficult to prove. That is why it is important to have a capable attorney in your corner. Here is a look at some of the main causes of negligence in an accident.
Texting and driving
DWI
Distracted Driving
Speeding
Aggressive driving
Failing to follow street signs
Running red lights
Careless driving
Tailgating
Failure to yield
If any of these reasons were the cause of your accident, then you are entitled to seek out compensation. That would cover more than just medical bills, but also the cost of any future medical treatments. Lost wages from time off work would also be included in the compensation as would pain and suffering. An attorney at the Law Offices of William H. Harding will know just what to ask for based on the details of your accident.
Beware of Insurance Company Tactics
It is important to know that insurance companies are always looking out for their own best interests. It is their job to pay out as little in compensation as possible. This often leads them to attempt to shift blame to the victim or even another party. This even occurs when an accident results in death. Insurance companies may seem like they are looking out for you, but it is important to understand their true intentions.
The way to fight back is to hire an attorney to that fighting for you. Your attorney will stand between you and insurance companies and not allow them to use underhanded tactics to get out of paying what they rightfully should. Also, never consult with an insurance company or their attorney directly. Hand those responsibilities to the Law Offices of William H. Harding as we will work tirelessly for your car accident lawsuit in Charlotte, NC and the surrounding areas.
Fortunately, car accident victims and their families can also push back by hiring an attorney experienced in car accident cases. A seasoned attorney will stand between victims and the opposing parties, ensuring that those parties do not pull tricks like getting victims or their families to sign releases or to agree to take small amounts of money as a settlement.
Available 24/7 to Provide Legal Advice
Unlike many other law firms that require hefty retainer fees, our car accident lawyers don't insist that potential clients make any payments prior to their initial consultation. We understand that it's important for you to learn about your legal options before investing in the help of a lawyer. Our professional guidance is available at any time of day or night, so you can depend on us in your time of need. We also offer the services of a Car Accident Attorney in Gastonia NC.