Motorcycle Accidents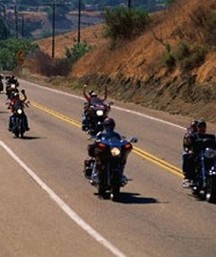 Motorcycle accidents typically involve a more serious type of injury than a regular car accident. Motorcycle operators are at a greater risk of serious injury and that means they need to be fully protected after a collision. The Law Offices of William H. Harding has an extensive amount of experience representing those who have been injured in a Gastonia, NC motorcycle accident.
Motorcycle Accident Injuries
Some motorcycle accident injuries are similar to ones commonly sustained in a car accident. However, some are more serious in nature. That demands that victims get the most compensation from the party responsible for the accident. Many injuries require costly medical care and some even require years of rehabilitation and therapy. Here is a look at some of the more common motorcycle accident injuries.
Spinal cord injuries
Loss of limbs
Broken bones
Road rash
Traumatic brain injury
Motorcycle Accident Causes
Some of the reasons for motorcycle accidents involve driver negligence. Many drivers continue to text and drive, disregard safety laws and drive recklessly at times. These can all lead to a motorcycle accident, although there are other common causes that are important to every motorcycle accident claim. Our attorneys have years of experience investigating the following causes which are often specific to motorcycle accidents:
Defective parts – Motorcycles may be fitted with faulty mechanical parts that impact operation.
Poor road conditions – Municipalities are expected to keep their roads maintained for the safety of all those who share the road.
Traffic Violations – Another motorist who breaks any traffic law can be held liable for injuries sustained by a motorcycle operator.
As a result of these various forms of negligence, victims of motorcycle accidents can sue more than just other motorists. They can sue municipalities, construction companies, part manufacturers and any other party whose negligence was responsible for the crash.
Motorcycle Accident Timeframe
After you are injured in a motorcycle accident, you have three years to file a claim in the state of North Carolina. That number drops to two when the accident results in a death. The process of getting compensation for your claim does not have an exact timeline. The time frame can be impacted by the amount of money involved, level of disputes regarding the specifics of the claim, the number of parties legally involved in the claim, and the other party's willingness to settle. It is best to waste little time in contacting the Law Offices of William H. Harding and starting the process of filing a motorcycle accident claim in Gastonia, NC.
Need Help?
Fill out the form below...

GASTONIA NC PRACTICE AREAS